ICOM CIV Control Cable
About the product:
This cable allows computer control of your ICOM radio through its REMOTE jack, when using appropriate software, from your computer's serial port. It is known to work with ARCP, RM, AUTOLOG, ICOM.EXE, WriteLog, and the included software IRC, but will work with any similar application as long as the application asserts the DTR pin on the serial port (this is where the cable draws its power from)
Special features: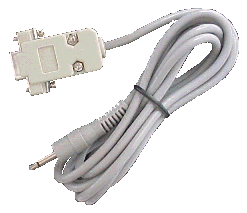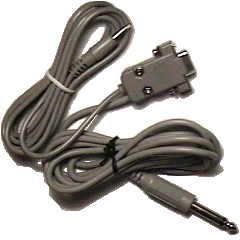 Easy hookup, no unnecessary cables or power supply needed.
90 day, no questions, full replacement warranty.
Works with all Icom radios that use the CT-17 CIV interface.
Will work with the Optronics Scout radio.
Allows saving and restoring radio memories to/from your computer.
Remote control your rig from anywhere using internet software.
Ability to expand using a standard Y-adapter(optional).
Includes IRC software with Registration key.
All descreet components, (no tiny ICs that can blow from a small static shock).
Shock resistant cable.
Molded phono plug.( no cheap construction here )
Works with most low power laptop serial ports. And all desktop computers.
Two models to choose from CIV and CIV with Keyer.
Click here for a closer view of the cable
CIV OUT OF STOCK
CIV WITH CW OUTPUT Out of stock

You may purchase a cable by sending $26 ($36 for CW model) plus shipping of $2 to:
Bruce Raisley
131 Casey Lane
Searcy, AR 72143
I accept cash(at your risk), personal checks, MO, Certified Check or PayPal! Shipping is $2 Any where in the U.S. Please contact me for shipping cost over Seas.
73s n9zle@hotmail.com

Limited quantities on CW version.
This interface works with any rig that lists the Icom CT-17 as an option. Supported rigs include IC-271, IC-471, IC-706/MKII/G, IC-718 ,IC-725, IC-726, IC-728, IC-735, IC-736, IC-746/pro, IC-751A, IC-756/pro/II, IC-761, IC-764, IC-765, IC-775, IC-781, IC-970, IC-910, IC-R10, IC-R71, IC-R72, IC-R75, IC-R700, IC-R7000, IC-R7100, IC-R9000.

IC-751A requires a UX-14 interface (available only from Icom) in addition to the CIV Cable. Look for a 1/8" phone jack labeled REMOTE or something like that on the back of your rig. If you have one, all you need is the CIV Cable.
If you would like to build it yourself Click on this link for a diagram "LINK"
A crome hooded version is available under limited quantities for $28 plus $2 shipping please email if you want this version. If the cable will be seen such as on a laptop I recommend this version.
Bruce Raisley, Bruce Raisley,Bruce Raisley,Bruce Raisley,Bruce Raisley,Bruce Raisley,Bruce Raisley,Bruce Raisley,Bruce Raisley,Bruce Raisley,Bruce Raisley